The Quadovator's Ultimate RZR Acesssory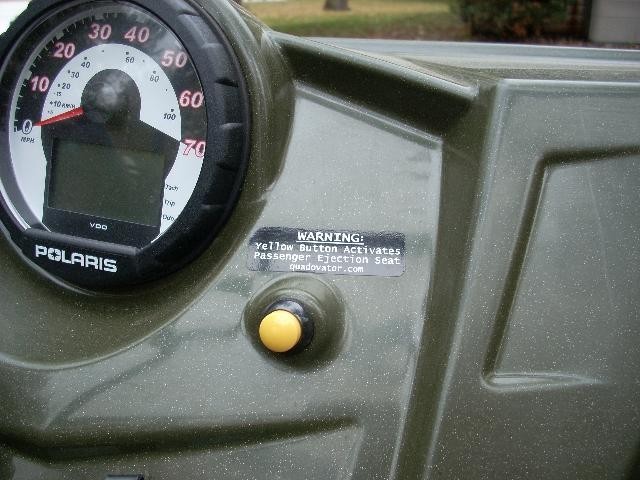 Finally, an easy answer to the question everyone asks, "What's the yellow button for?" And for those of us who often enjoy the company of our spousal unit riding shotgun it can often bring a smile to an otherwise tense moment (Quit your &itchin' or I'll press the yellow button!) Well, even if it only works for a couple rides it's well worth the sticker price.

Ask for the Yellow Button Sticker, $2 includes postage within the US.

ORDER INFO - It's easy to order from Quadovator. We'll be happy to answer any questions you may have by phone or email but we DO NOT ACCEPT PAYMENT INFO BY PHONE. Just send us a brief email listing what products you want, the model and year of your machine(s) and your shipping address. We'll respond by email with an acknowledgement of your order, in stock status, and a SECURE INVOICE for your payment info. When the invoice comes back to us your order will be on its way to you. And yes, we do ship worldwide. Click here to ORDER