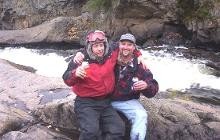 Trail Partners
We refer to these folks as trail partners because our ATVing experience would be far less enjoyable without the products and/or services they provide. All of them carry our highest recommendation.

K&M Polaris Sales and Service
Ken and Mark don't just sell Polaris, they ride Polaris and offer very competitive pricing along with the most personal attention to your parts and service needs you'll find on the planet. These are truly the "good guys." Give them a shot at your next Polaris purchase.

Muddy13 Are you up to the challenge of the Dirty Beaver, or will it consume you? There's only one way to find out. Visit our friends at Muddy13.com to find out more about Wisconsin's premier Extreme Mud Competition Event destination. Whether you come to watch or come to play the Dirty Beaver is sure to satisfy. Put a little mud in your smile!

For Synthetic Winch Ropes, Fairleads and Accessories we like BC Offroad and RockStomper. Give them a call and they'll be happy to help you get set up with what you need. Click on Links for online catalogs.


Our Favortie Places to "ATV Online"

If you're into UTVs or Side x Sides you'll find a wealth of information on most of the major players in this market on UTV Guide. The site includes reviews, comparisons and build projects. Compare before you buy or get some great ideas for what you can do with a UTV you already own.

Hosted by an old cantankerous friend (Cob) the QuadSquad.com forum contains a wealth of useful info offered with its own unique flavor.

ATV Nation is billed as an "informative and entertaining site for the ATV enthusiast. ATV Forum, Rider Profiles, Technical Tips, Trails & Clubs Resource." We can't say it any better than that!

If you're into Toy Hauler Trailers we can heartily recommend Toy Hauler Magazine and their online forum for loads of information. The Toy Hauler Owners forum is newer and get's less activity but is no less friendly and a community anxious to share ideas.