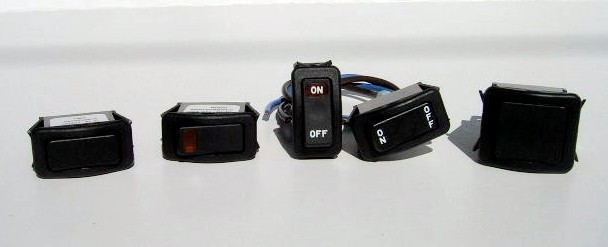 Trail-Proof  Electrical Switches by Otto Manufacturing
Because we use switches made by Otto Manufacturing exclusively to control our various electrical mods we've had a lot of customer requests for different varieties of these to control add-on accessories. If you've ever used a switch purchased from an auto parts store or electronics supplier you know why these Otto switches are in such demand. Most toggle and rocker switches on the market weren't designed to withstand the mud, water and dust we subject our trail machines to so they're prone to failure.

These K series rocker switches are rugged, high performance sealed switches designed for use in the severe conditions found in marine, appliance, heavy equipment and industrial control applications. They are totally sealed so the switch can withstand direct water spray and submersion, even during operation. They are designed to meet the international submersion specification level IP68.

Otto is the manufacturer of the "work light switch" on late model Sportsmans and all our Otto switches are the same physical dimensions as the work light switch. This makes it easy to add them to the pod on late model Sportsmans because the underside of the upper pod has molded-in cut-out lines for a total of four switches. Even without the cut-out lines mounting an additional switch is a simple matter of cutting a rectangular hole in your pod and snapping one of these into the opening.

To offer you an idea of the types of switches we try to keep on hand, we have "normal" on/off (SPST), illuminated LED on/off, winch rocker switches (momentary on, off, momentary on) and thumb/grip warmer switches (on, center off, on).
Our stock on the various configurations of these switches fluctuates quite a bit so call or email us for availability. We can order what you want too, if we don't have it, but Otto is a custom manufacturer so they don't put our switches on their production schedule until we order. That puts our lead time on these out to about 8 weeks. We try to keep most of the "normal switches" plus a few specialty switches in stock so let us know what you want or what you're trying to control and we'll do our best to hook you up with what you need. The Single Pole rockers range in price from $16 to $19.