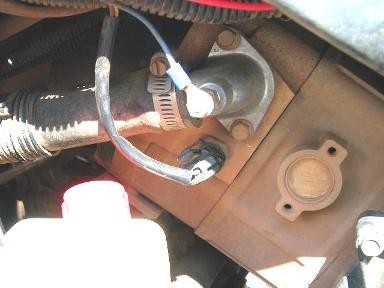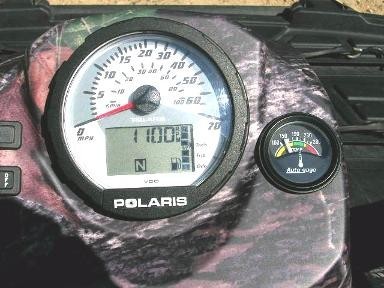 the Quadovator's Coolant Temp Gauge Kit for Polaris Magnum, Sportsman and RZR
Here you see the ideal placement for the gauge in a late-model Polaris headlight pod. It looks almost like the factory put it there.
If you ride in muddy, dusty conditions that can seriously reduce your radiator's ability to cool, there is no single piece of information more important to know than the temperature of your engine coolant. This temperature gauge allows you to monitor your coolant temp to alert you to potentially damaging and costly heat issues before they happen. By the time you notice the hot indicator flashing on your speedo you may already have blown out enough coolant to damage your engine. This gauge works in addition to the "idiot light" and allows you to keep a close eye on how well your engine is or isn't being cooled. When the needle on the gauge exceeds the temperature that turns the radiator fan on and stays there you know it's time to check your oil level and find some water to blast the crud out of your cooling system components. And as a companion to the temp gauge, check out our Fan-On Light/Switch kit. This illuminated switch lights up when your fan comes on giving you a two-dimensional view of your cooling system performance. When your fan light is on your temp gauge needle better be falling our you're about to have trouble.

This is an electrical gauge that requires a 1 ½" mounting hole. It's illuminated for night viewing and we've found it to be very accurate, durable and reliable. As you can see by the pictures it fits so nicely into the late model Polaris headlight pod it almost looks stock. Because it receives its signal electrically through a single wire from the sending unit there are no tubes to worry about getting kinked or broken.

As an option for easier installation, for the Polaris 400, 450, 500, 600, 700 & 800 we offer an exchange program for the thermostat cover which is the ideal mounting spot for the sending unit. Here's how it works, for $30 we include a drilled and tapped thermostat cover with the sending unit preinstalled. All you do is remove your cover, install the one in the kit, then return yours to us in the post-paid provided (post-paid for domestic shipping only). When we receive it we'll refund you $20 so your net cost for the prepared cover is only $10.
Installation of the gauge kit requires cutting a mounting hole in your pod, replacing your thermostat cover with ours (2 bolts and a hose clamp) or drilling and tapping your own and running a total of three wires; one from the sender to the gauge, one to ignition switched power and one to ground. The gauge comes prewired for convenient installation. Complete instructions are included with the kit along with cooling fan on/off specs so you can interpret what the gauge is telling you and know when your cooling system is in need of attention. Ask for the Temp Gauge Kit $69 + shipping. (about $6 withing the US) If you want to use our thermostat cover exchange probram with the preinstalled sending unit that will add $30 to your order but $20 of that will be refunded upon exchange.
ORDER INFO - It's easy to order from Quadovator. We'll be happy to answer any questions you may have by phone or email but we DO NOT ACCEPT PAYMENT INFO BY PHONE. Just send us a breif email listing what products you want, the model and year of your machine(s) and your shipping address. We'll respond by email with an acknowledgement of your order, in stock status, and a SECURE INVOICE for your payment info. When the invoice comes back to us your order will be on its way to you. And yes, we do ship worldwide. Click here to ORDER
This pic shows the thermostat cover on the left side of the head just above the coolant reservoir bottle. Installing the new cover is a simple matter of two bolts and a hose clamp. This location is right above the thermo fan switch so it gives a very accurate reading of when the fan should be on or off