our Shipping and Return Policy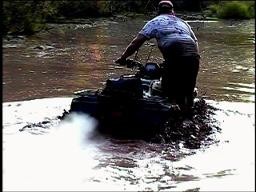 We're consumers too, and much prefer the ease and convenience of mail order to fighting through mall crowds (we'd rather be riding!). But quite frankly, we're insulted when catalog companies lure us into a sale with an attractive price just to sock our pocket book with exorbitant "shipping and handling" charges. (if that's what they consider a fair charge, we think they're handling it way too much!)

At Quadovator we believe in charging a fair price for the quality we build into the products that bear our name. We estimate and round off our shipping charges based on what it actually costs us to have the item sent from us to you, and add whatever costs are associated with packaging (box, padded envelope, etc.). In our opinion, that's the fair way to charge for shipping.

If you ever have a problem with an item you've purchased from us, contact us by phone or email and we'll figure out the best and fastest way to make you happy. Since we deal with several vendors for many product lines as well as our own, our only set policy is to do whatever it takes to satisfy our customers, and that takes communication between you and us.
A word about Electrical Modifications on machines Under Warranty……..

All of our products that involve electrical modifications are used by us on our own vehicles and by those in our riding group. In almost all cases this means these mods have thousands of miles of "field testing" on them before they get to you so if they are installed according to directions they do what they're supposed to without causing any problems. We even have some Polaris dealers selling and installing our products.

But that doesn't mean if you take your machine in for warranty work your dealer may not refuse a warranty claim because you've modified your electrical system. Most dealers don't understand these mods or how they work so they become an easy target for suspicion, and some dealers just don't care enough about keeping your business to look beyond the mods and fix the real problem. (When most mechanics see the mods they just say "cool!")

So if your machine is still under warranty you may want to consider your relationship with your dealer and how you think he might handle a warranty claim before you make changes to your electrical system. Just because we know the mods are safe for your machine doesn't mean he does.
Thanks for visiting our website and considering a purchase from your trail-mates at Quadovator!