The Quadovator's Ranger /RZR Gauge Trio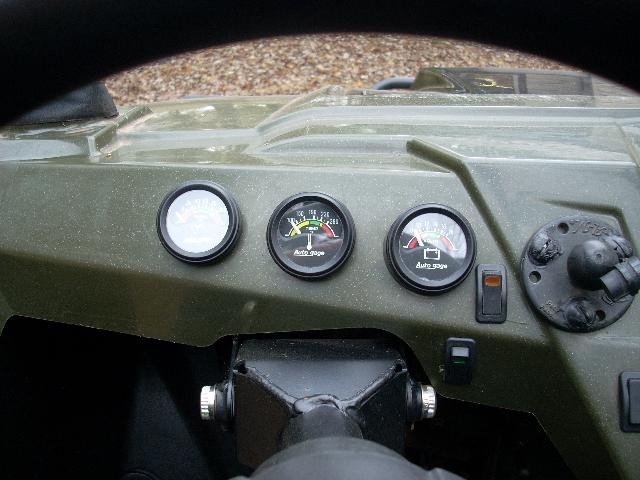 Ever since the RZR came out owners have been "adapting" our Temp Gauge Kit for the Sportsman to the popular SxS. Really, the only difference is you're installing the gauge in a dash instead of a pod (easier in a dash) and the RZR needs about 9' of wire to get back to the sending unit/thermostat cover (our SP kit comes with only 3').

In response to the demand for gauges we've just finished developing a trio of gauge kits (coolant temp, volt meter and oil pressure) specifically designed for the RZR. Available individually or as a group, all gauges kits include an angled dash spacer so after installation the gauge face is in the driver's line of sight, not pointing off in space at the odd dash angle. Kits include proper-length wiring for the vehicle and if the trio is purchased as a package it includes hot and ground wiring harnesses with quick-connects that just snap on to the hot and ground accessory outlet wires with one easy connection for all three gauges. The Oil Pressure Kit includes a flexible oil line necessary to dampen engine vibration and provide a proper ground for the sending unit. All parts, pieces and wiring that can be preassembled are already done for you, including thread tape on the plumbing connections. Whether purchased separately or as a group, these are very comprehensive kits that include everything required for installation except tools. The instructions are clear, complete and understandable. We will still be offering the thermostat cover exchange program, with pre-installed sending unit as an option as some customers prefer to drill and tap their own, and our Fan-On Light/Switch kit as a companion to the temp gauge so you know when your fan is running to make sure your temp is dropping.

Gauge prices for the RZR / Ranger are: Temp Gauge Kit $75, Volt Meter Kit $55, Oil Pressure Gauge Kit $99. These will all include the angled dash spacer that the Sportsman kit doesn't have and proper length wiring for RZR / Ranger installation. If purchased as a trio you'll save a little money at $219 for all three and it will include wiring harnesses for connecting all the gauges to hot and ground (not included with individual gauge purchases). The "Essential RZR Accessory" (yellow button sticker) will be included as a gift to all RZR customers.
These comprehensive kits make installation simple. Our Volt Meter only needs hot and ground so that just hooks up to your accessory outlet. Temp Gauge and Oil Pressure gauges need hot and ground and a wire going to the sending units which are both very close to each other on the right side front of the engine. Our thermostat cover with the pre-installed sending unit just replaces your stock cover, no gaskets required. The stainless steel braided line included in the Oil Pressure Gauge Kit screws into a port by the oil filter once the stock plug has been removed, then the sending unit screws into the line. Level of ease/difficulty of installing either one is about the same. Most will want to run the two sending unit wires under the floor and above the skid plate.
Ordering Info: It's easy to order from Quadovator. We'll be happy to answer any questions you have by phone or email but WE DO NOT ACCEPT PHONE ORDERS. Just send us a brief email listing what products you want, the year and model of your machine(s) and your shipping address (so we know whether or not to apply sales tax). We'll respond by email with an acknowledgment of your order, in stock status, and a SECURE INVOICE for your payment info. When we're notified your invoice has been paid your order will ship, usually within 24 hours. And yes, we do ship worldwide. Click here to order.