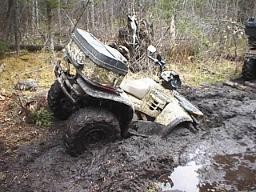 the Quadovator's Reverse Override Lock Kit for all Polaris w/Digital Speedometer Display
If you ride like we do there are times when you're off the bike, pushing hard and running the throttle to back out of a deep mud hole. It doesn't happen often but it happens, and when it does you need all four tires and full power working for you. This kit allows you to lock the override function with an auxiliary rocker switch that acts as if you were pressing the yellow button so you don't have to be sitting on the bike with both hands on the bars to run with full power and AWD in reverse. Turning the switch off returns the yellow button to stock function so you can use it to page through your digital speedo display. You can install this kit without cutting any wires. Easy to follow instructions and solderless connectors are included. Ask for the Reverse Override Lock Kit $18 +shipping (about $3 within the US) If you have a "older" Sportsman or Magnum without the digital speedo display (<2002) see our Reverse Override Eliminator.
Note: The auxiliary switches we use are from the same manufacturer and are the same physical size as the "work light switch" on '05 and up machines. These are very high quality submersable and dustproof switches, designed to meet IP68.
ORDER INFO - It's easy to order from Quadovator. We'll be happy to answer any questions you may have by phone or email but we DO NOT ACCEPT PAYMENT INFO BY PHONE. Just send us a brief email listing what products you want, the model and year of your machine(s) and your shipping address. We'll respond by email with an acknowledgement of your order, in stock status, and a SECURE INVOICE for your payment info. When the invoice comes back to us your order will be on its way to you. And yes, we do ship worldwide. Click here to ORDER

A note from us on pricing..........You may notice the price for this mod has risen slightly. Since 2005 when we began offering other riders modifications that included Otto switches, because they're the most reliable controls available, our retail pricing for these kits has not changed. Although we've absorbed several cost increases during those years to keep the cost of these kits what we consider affordable, recently Otto has increased our cost again by nearly 25%. As much as we hate to do it, we now have no choice but to pass a portion of this increase on to our customers or stop offering these popular modifications. 2/28/12