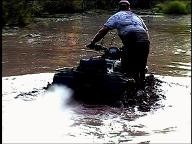 the Quadovator's Reverse Override Eliminator for all Polaris w/o DigitalSpeedometer Display (>2002)
If you ride like we do there are times when you're off the bike, pushing hard and running the throttle to back out of a deep mud hole. It doesn't happen often but it happens, and when it does you need all four tires and full power working for you. This also offers huge advantage for plowing snow because you don't have to worry about pushing in the yellow button and operating your winch/lift lever at the same time. Installation of this kit locks the override function as if you were maintaining constant pressure on the yellow button so you don't have to be sitting on the bike with both hands on the bars to run with full power and AWD in reverse. You can install this kit without cutting any wires. Easy to follow instructions and solderless connectors are included. Ask for the Reverse Override Eliminator $12 +shipping (about $2 within the US) If you have a "newer" Sportsman or Magnum with the digital speedo display (2003>) see our Reverse Override Lock Kit.
Note: Polaris considers their manual reverse override system a "safety feature." You may not want to disable/modify this system if there is any chance younger riders or those unfamiliar with operating an ATV will be allowed to ride the machine. Installation of this mod disables the stock safety function until the mod is removed from the machine. It is not "switchable" for on/off function.
ORDER INFO - It's easy to order from Quadovator. We'll be happy to answer any questions you may have by phone or email but we DO NOT ACCEPT PAYMENT INFO BY PHONE. Just send us a breif email listing what products you want, the model and year of your machine(s) and your shipping address. We'll respond by email with an acknowledgement of your order, in stock status, and a SECURE INVOICE for your payment info. When the invoice comes back to us your order will be on its way to you. And yes, we do ship worldwide. Click here to ORDER