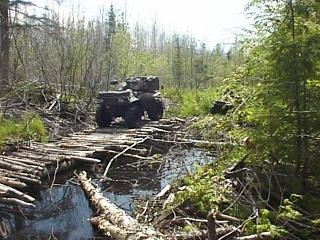 First and foremost, we're riders. Quadovator wasn't born in the pursuit of profit, it was conceived on the trail from years of using, developing and refining modifications and accessories that make our machines as comfortable and capable as they can possibly be. Our desire to share these products and information with other riders is seen here, in custom modifications, aftermarket accessories, product reviews and trail tips.

We're not your typical glitzy online store with smiling women wearing headsets standing by to take your order. If that's who you'd prefer to deal with there are plenty of them out there. We're a custom workshop. In addition to supplying tires, wheels and accessories for all makes of ATVs from the top brands on the market today, the Quadovator line of performance trail equipment for Polaris is manufactured in-house. When you call us you may be talking to the person who designed and/or built the piece you're interested in. We're not "open" 24/7. The best time to reach us is 6:AM to 6:PM (Central) weekdays, although don't hesitate to call anytime and leave a message, we'll be happy to call you back. It could be we have tools running and can't hear the phone, or we might be on one of our frequent Thursday through Sunday "product testing" excursions.

Installation of all our mods, aftermarket accessories and performance equipment is available, if it's convenient for you to bring your machine to our shop in south-central Wisconsin (40 miles north of Madison). If that doesn't work for you we've taken great care to include comprehensive instructions with each of our own brand of accessories and if you have a question someone with real experience will assist you by phone.

We choose to ride Polaris machines but you won't find any brand bigots in our ranks. There are pros and cons to every machine out there. We're just grateful for a marketplace with so many choices and to live in a country where we have the freedom to choose. Hey, they all look pretty much the same after the first mud hole anyway.
So grab your beverage of choice, get comfortable and enjoy our online product catalog, reviews and hard-earned tips from the trail. It ain't as good as ridin' but it takes less time and showering afterward is optional.